Zeblaze STRATOS
New Flagship
Premium Multisport GPS Smartwatch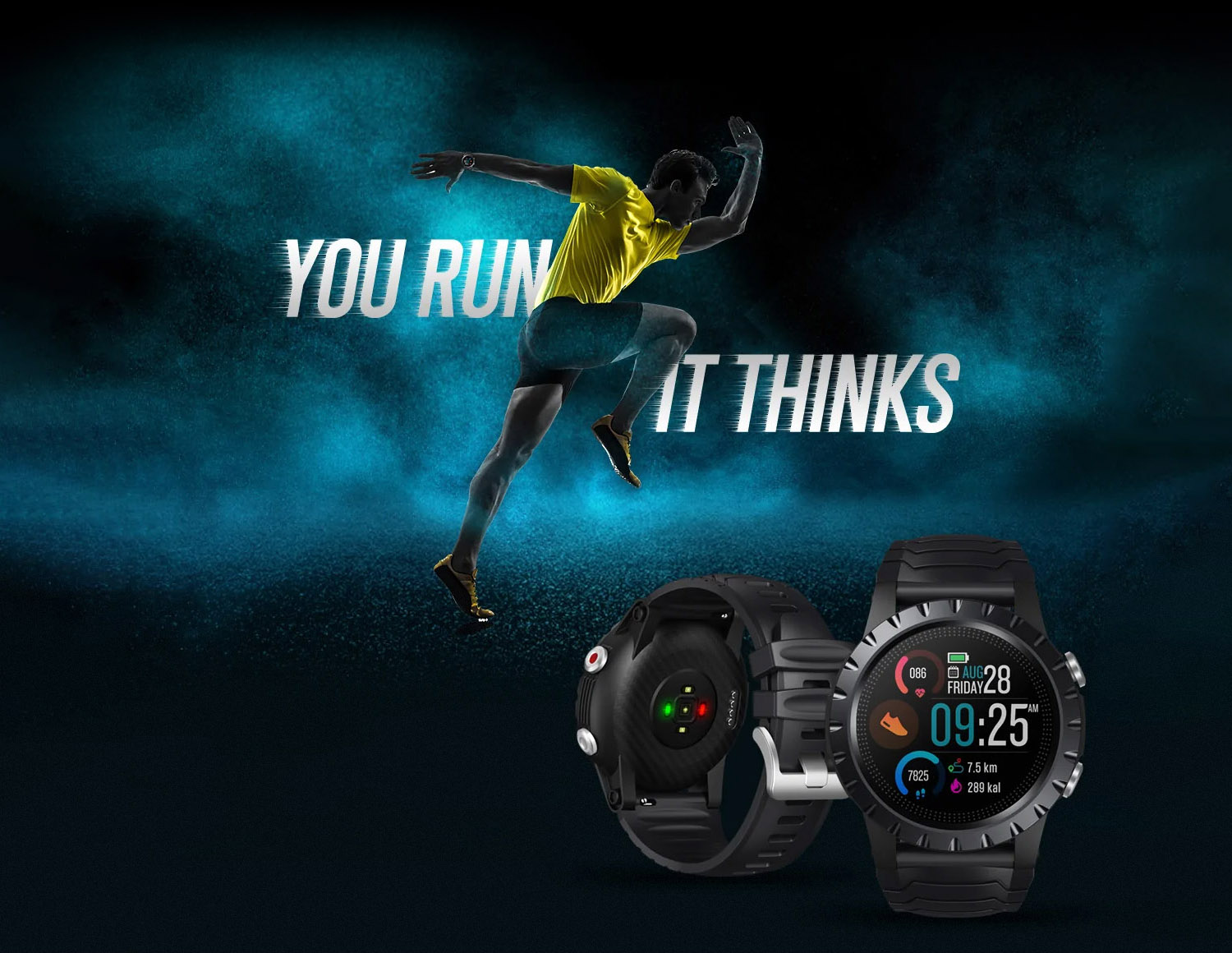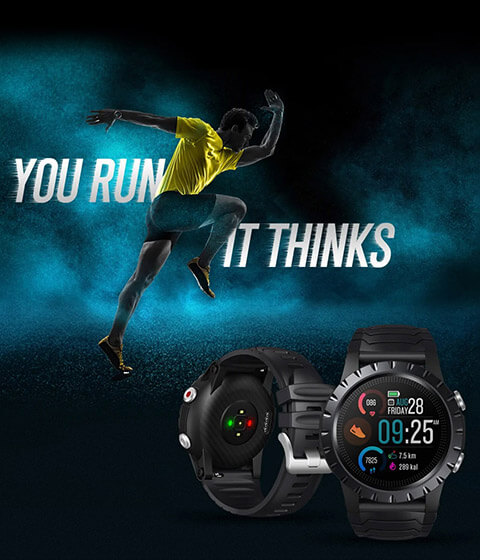 Designed for any environment
Display
1.32" HD Color Screen
360x360px
Built-in Multiple
Sensors
Carbon fiber
Reinforced Polymer Case
Metal bezel
Buttons and Buckle
4-Satellite
3-Modes GPS
GPS / GLONASS / GALILEO / BEIDOU
120+
Goal-Based
Exercises
All-day
Heart rate
Monitoring
Up to 25 days
Battery Life
Multiple
Personalized
Watch Face
Tough from The Inside Out
The Zeblaze Stratos's shape is tough, solid with distinct angles, and brimming with strength. The strength-enhanced design of the body details and internal structure takes a sense of both strength and practicality into account, making it tough from the inside out and a partner you can rely on.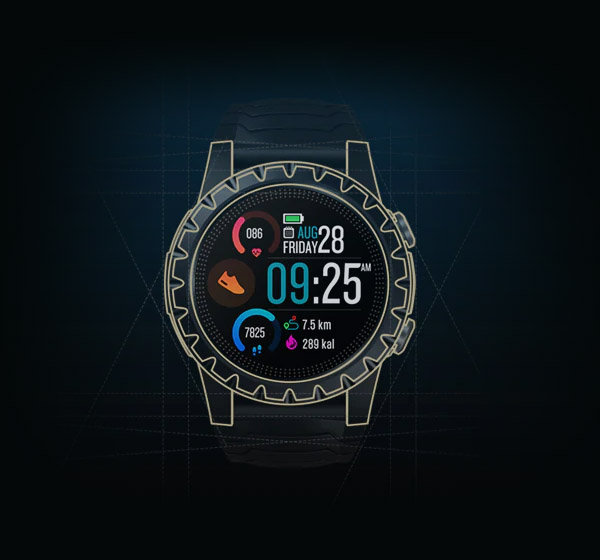 Precision Sensor Fusion Technology
Integrated wrist heart rate monitor and multiple smart sensors, the watch can accurately track your trajectory, speed, distance and calories burnt. You'll find the one that's perfect for you in our wider portfolio of amazing sensors that suit all sports and exercise needs.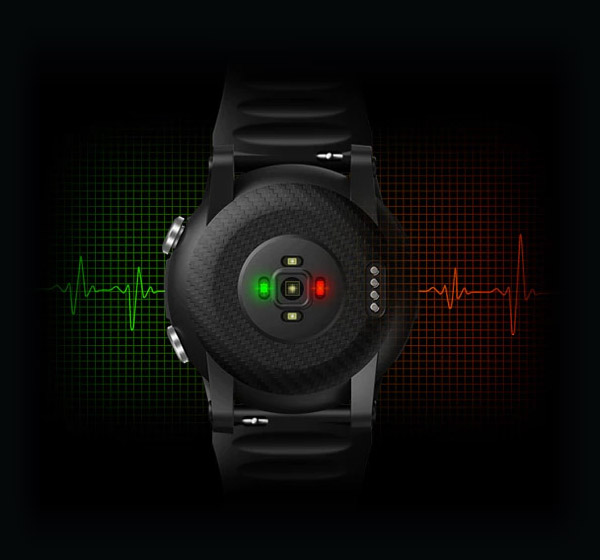 1.52-inch High-resolution Color Display
The display has always been a crucial part of any smartwatch. That's why the Zeblaze Stratos features a 1.32-inch HD color display with a panoramic view of all important information, and the lively colors deliver a crystal-clear viewing experience.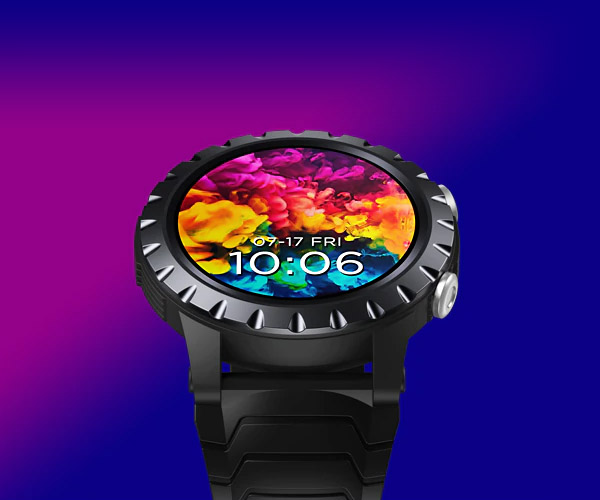 Optimized Efficiency
Faster and More Accurate Positioning
The Zeblaze Stratos uses a high-end GPS chip and a built-in exact 4-satellite positioning system. We have also optimized the watch body materials and internal layout. Signal efficiency has been significantly increased, making satellite search faster and positioning more accurate, meeting your positioning needs among both urban jungles and canyon wilderness.
High-precision GPS 4-Satellite Positioning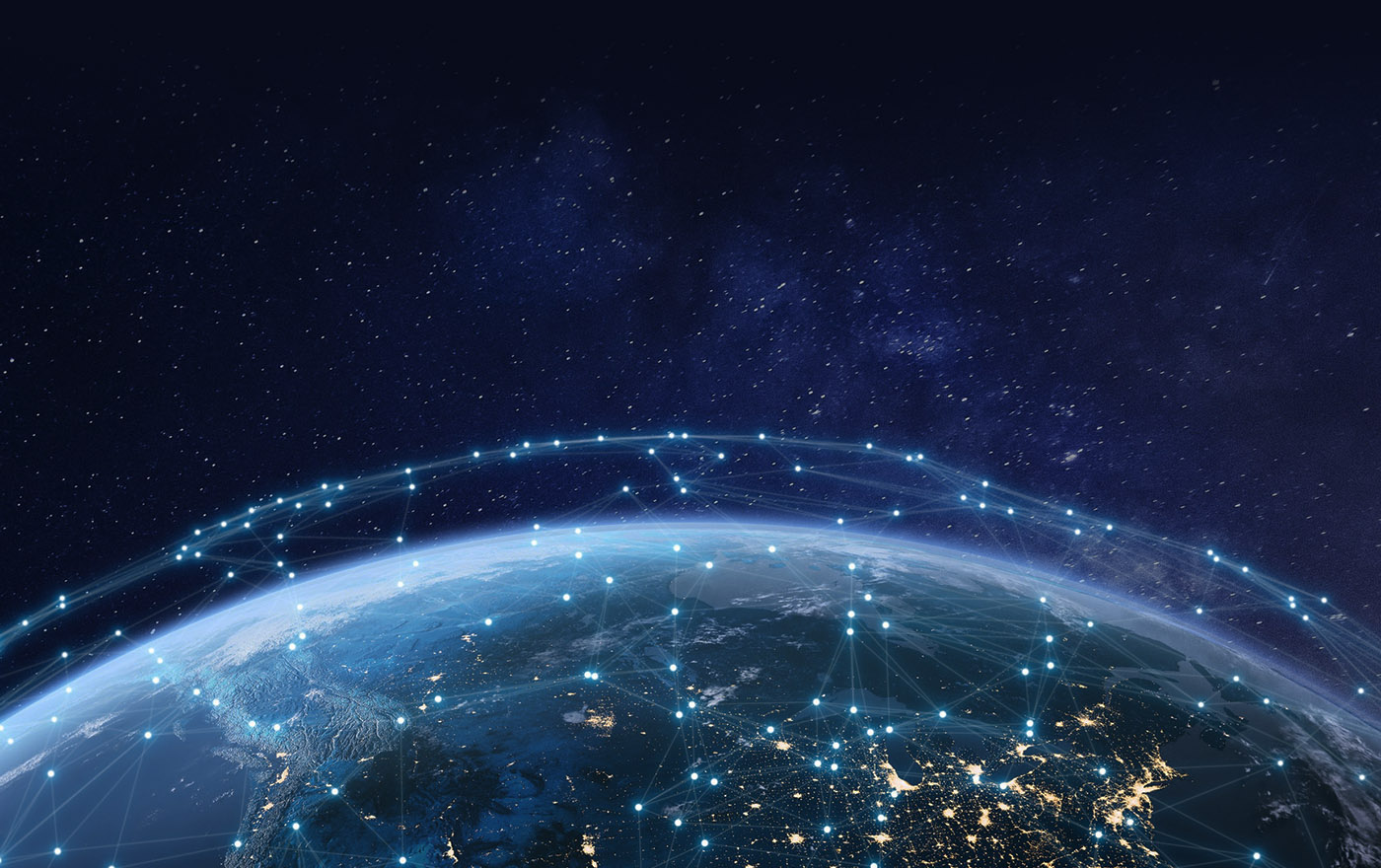 Water Resistant 50M
Escorts You Even Under Water
Thanks to professional waterproofing that offers protection up to a depth of 50 meters, the watch is on par with traditional high-end watches and can be worn worry-free for daily use or when swimming.

A new circuit design especially developed for Zeblaze Stratos, an advanced low power-consumption chip, and a deep power optimization give the Zeblaze Stratos a longer battery life. It stays with the user over the long haul, allowing you to wear it without worry and never think about charging.
Fighting the Wilderness with You
Up to
25
days
Battery Saver Watch Mode
Up to
14
days
Smartwatch Mode
Up to
40
hours
Max battery GPS Mode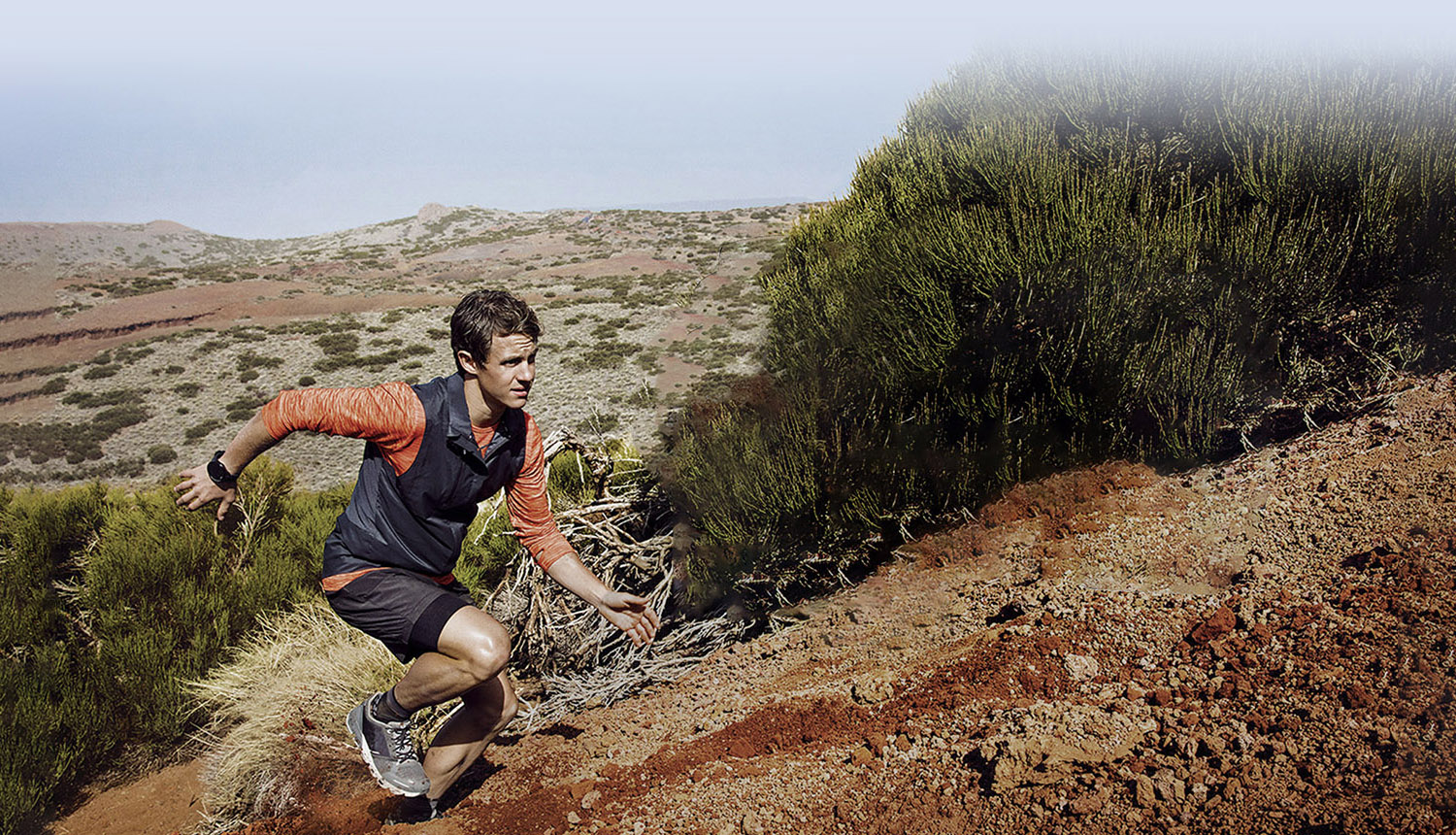 Encompassing Care for Your Health
Abnormal Heart Rate Alerts
Daily Resting Heart Rate
Heart Rate Alerts Custom (BPM)
Heart Health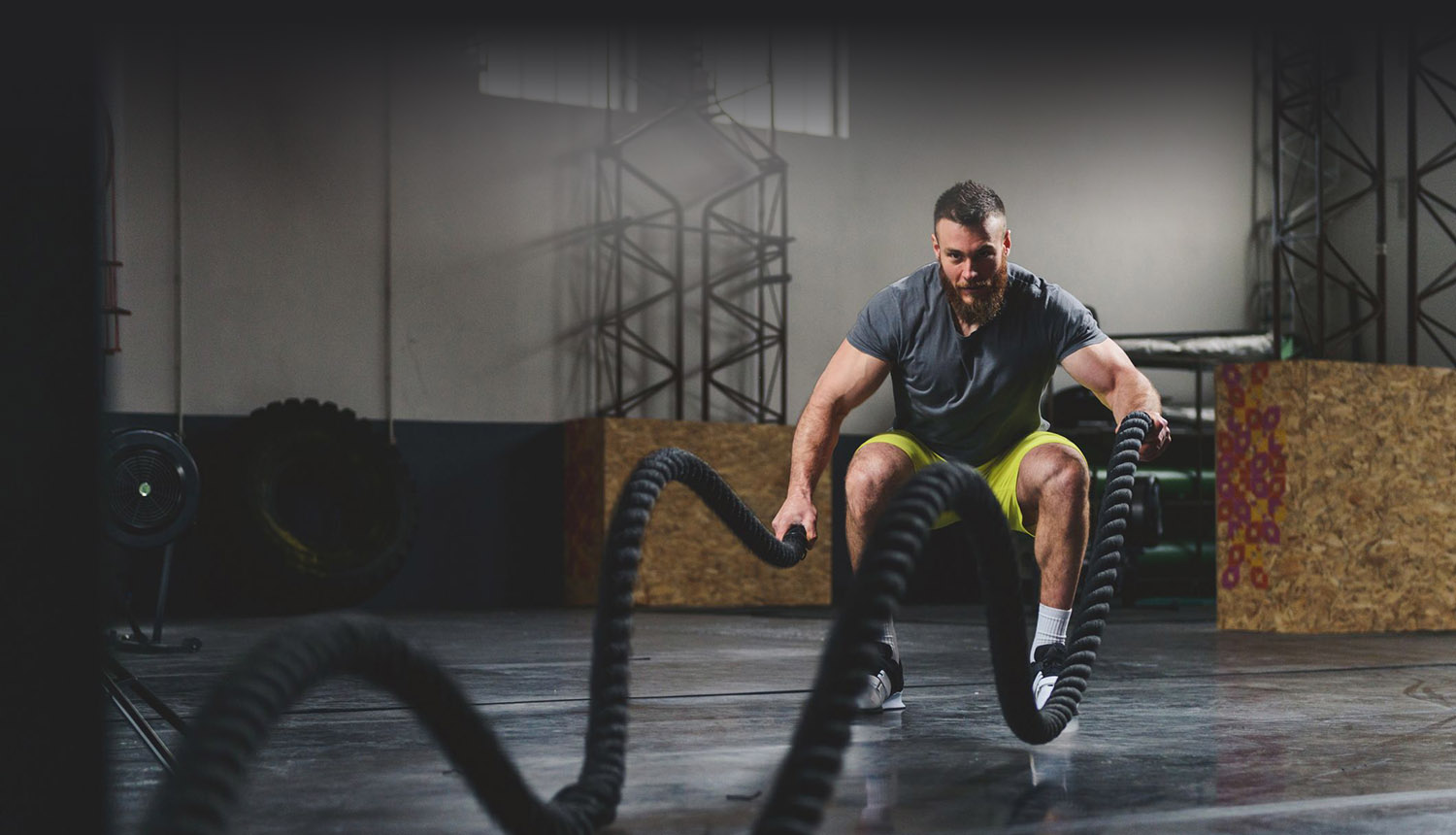 High-precision Heart Rate Tracking
Zeblaze Stratos is equipped with high-precision optical sensors and professional algorithms, so it supports full-day automatic heart-rate detection. And the daily heart rate zone can be a guiding metric for better exercise.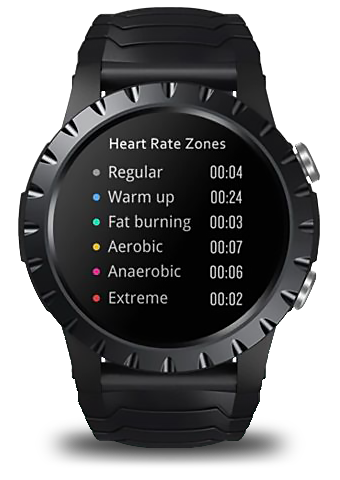 Heart Rate Zones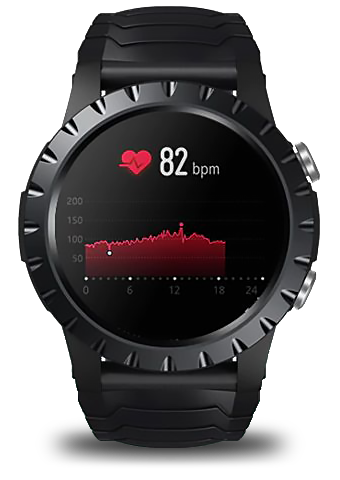 24h Heart Rate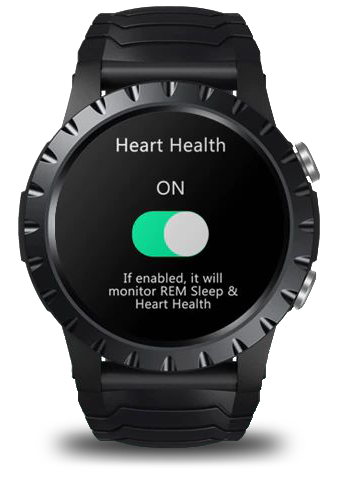 Heart Health
Scientifically Divide 6 Heart Rate Zones
24 min
Warm-up
100-118 bpm
03 min
Fat burning
119-138 bpm
07 min
Aerobic
139-158 bpm
06 min
Anaerobic
159-178 bpm
02 min
Extreme
179-200 bpm
*It also supports heart-rate warning. The watch will vibrate when it detects a heart rate that exceeds the warning value.
Monitor Your Performance, Training, and Recovery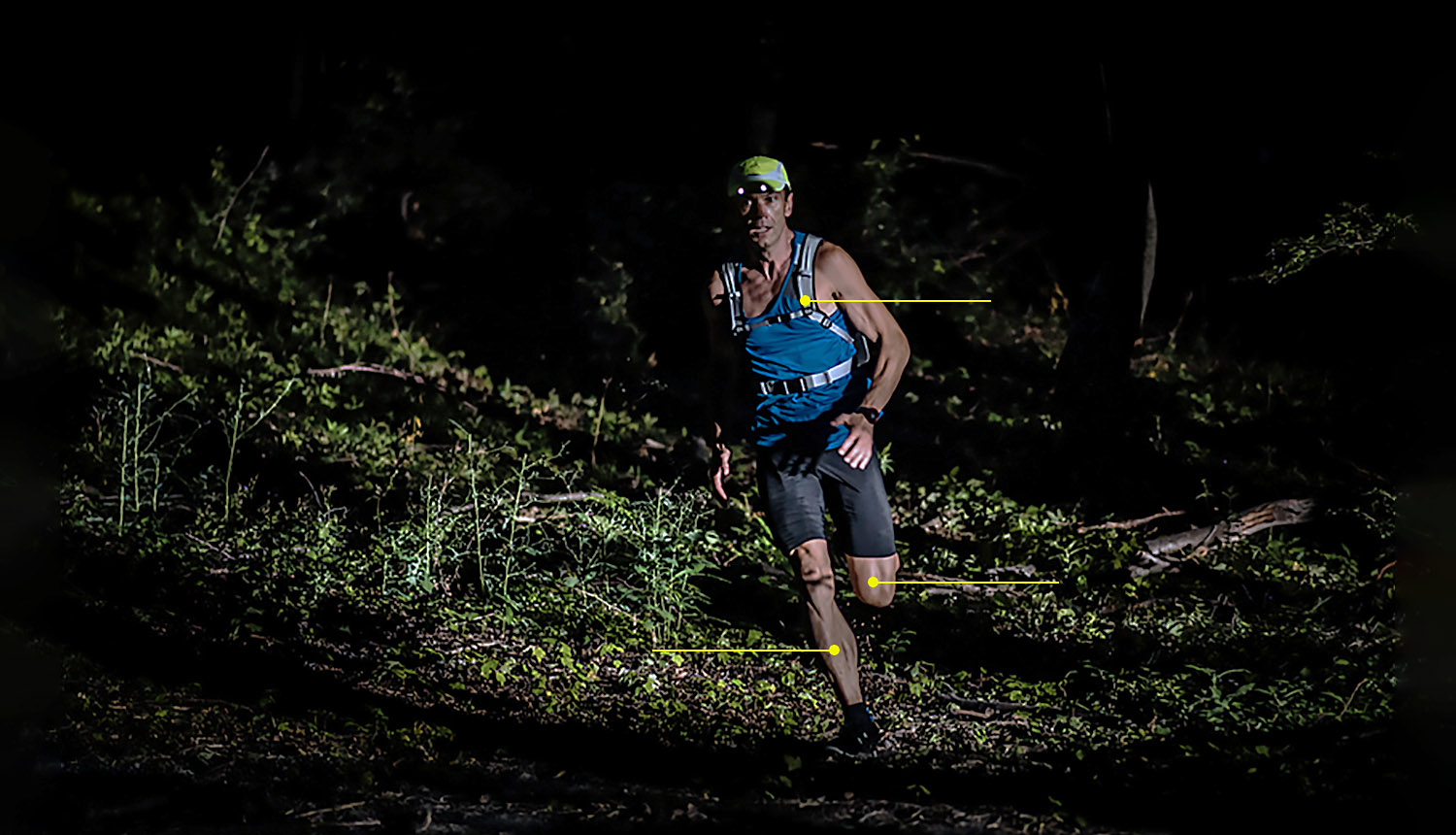 Just how effective is your current training plan?
Training status is a new performance monitoring tool that automatically evaluates your recent exercise history and performance indicators to know if you're training productively, peaking, or overreaching.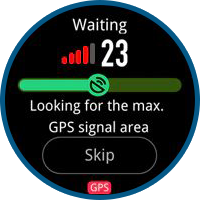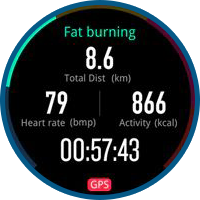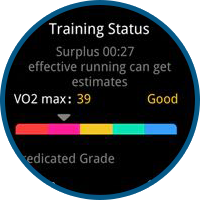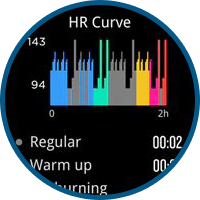 120+ Goal-Based Exercises
Zeblaze Stratos lets you change things up with ease thanks to built-in activity profiles for running (indoor/outdoor), cycling (indoor/outdoor), swimming (pool/open water), cross-country skiing, paddle sports, trail running, hiking, strength training and many more.
Exercise to the Fullest and Track Your Every Move
Whether indoor fitness, run, swim, cycling or other sports... whatever you do,Zeblaze Stratos can track it. The statistics recorded during each activity let you analyze yourperformance and improve on it next time.

Indoor Fitness
Strength, Yoga, Stepper, Elliptical, Rowing Machine, Air Walker, and many more.
Active time: 00:56:37
Avg. HR: 118 bpm
Avg. Energy: 730 kcal
Total. Dist: 4.28 km
Active time: 00:30:54
Avg. Energy: 378 kcal
Avg. Pace: 0.17'13''/km
Avg. Speed: 8.31 km/h
Avg. Cadence: 166 spm
Active Steps: 5144 steps
Avg. HR: 118 bpm
Heart Rate Curve

Running & Walking
Outdoor running, Walking, Treadmill, Trail running, Race walking, Indoor walking.

Cycling
Outdoor cycling, Indoor cycling, Mountain biking.
Total. Dist: 12.6 km
Active time: 00:48:54
Avg. Energy: 637 kcal
Avg. Pace: 04'06''/km
Avg. Speed: 16.2 km/h
Avg. Cadence: 142 spm
Avg. HR: 106 bpm
Heart Rate Curve
Active time: 00:30:54
Total Energy: 425 kcal
Total Strokes: 1162 times
Total Stroke Rate: 17 bpm


Swimming
Open water swimming, Pool swimming.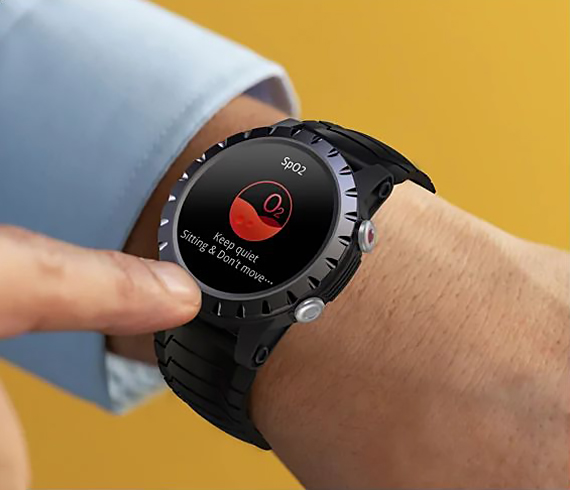 SpO2 Level Measurement
Your Personal Health Guardian
When you engage in sustained mental labor or do intense physical outdoor exercise such as marathons, you can test your SpO2 level when you start feeling unwell. It can to better understand your physical condition and keep your health under control.
Maximum Oxygen Uptake
VO2max Fitness Analysis
Train smarter with VO2max, an indicator of how you can expect to perform. This metric even accounts for changes in performance that could be caused by heat or altitude.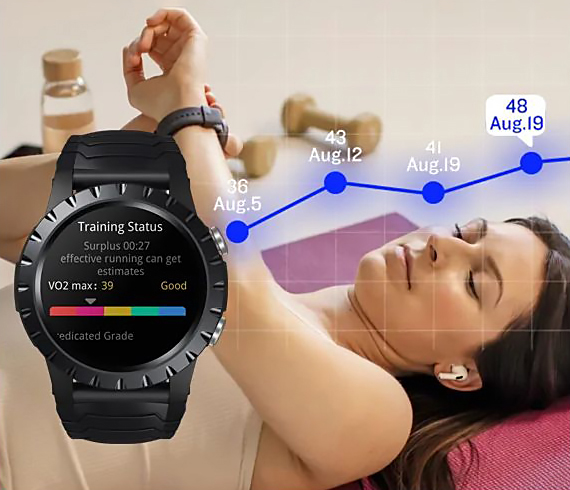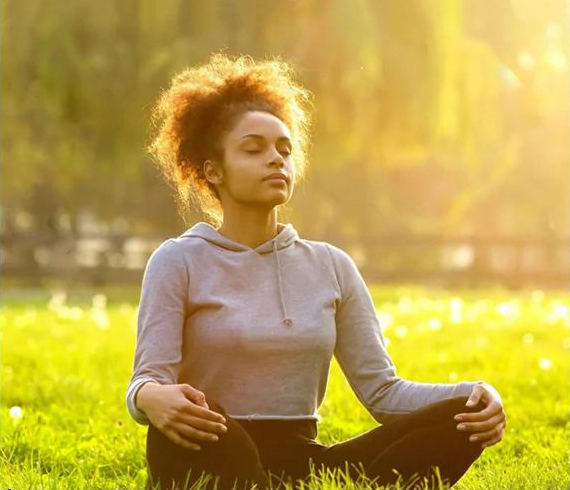 Breath Training
Help You Regulate Stress and Relax
Relax your body and calm down your mind with the help of a guided breathing exercise. See how you're breathing throughout the day, during sleep, and breathwork and yoga activities.
Deep Relax
Nervous Regulation
Replenishing Energy
Self-Reconciliation

Stress Detection
Calm Yourself When Feeling Overwhelmed
Stress is an underlying cause of many health problems, and so you can use the watch to check where your stress level lies - from relaxed, normal, medium, or high - anytime you feel pressured throughout the day, so you know when to relax and reduce it.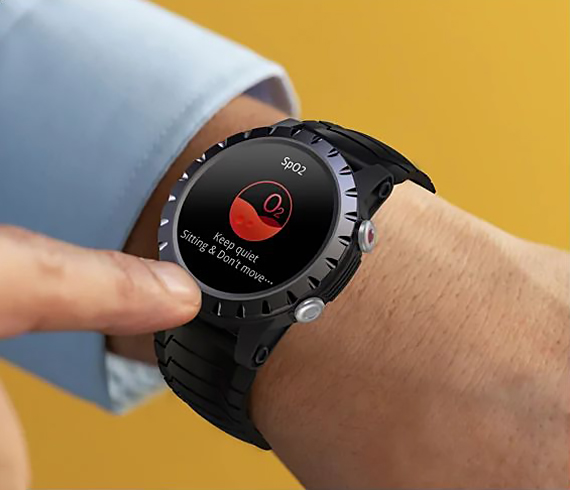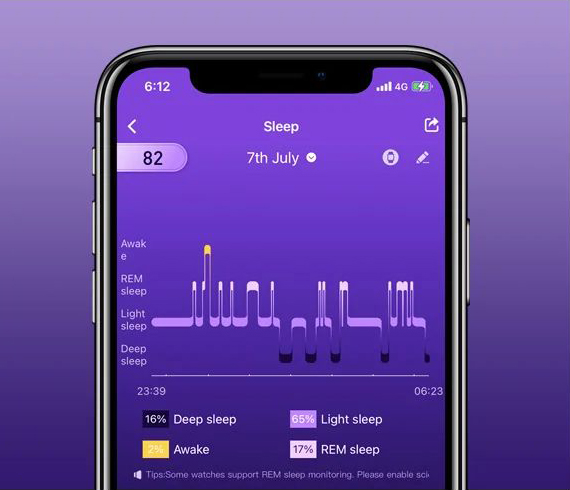 Sleep Quality Monitoring
Analyze Sleep Stages and Naps
A good night's sleep is a top priority in the modern world. Therefore, the watch supports in-depth sleep monitoring, which can more accurately determine the sleep stage (the light sleep, deep sleep, REM periods), monitor the sleep breathing condition, and provide quality analysis and suggestions for improvement based on a night.
24/7 Activity Tracking
Today's Data Backup
Track your activities by recording the movement of your wrist with the built-in 3D accelerometer. Combine your physical data to analyze exercise frequency, intensity, and regularity. So you can understand how active you are in your daily life outside of regular training.
24/7 Calorie Tracking
Know your accurate
energy consumption.

Steps Tracking
Understand the level
of activity in daily life.

Activity Time
Total healthy
exercise time.

Activity Goal
Achieve your goals
to help you stay healthy.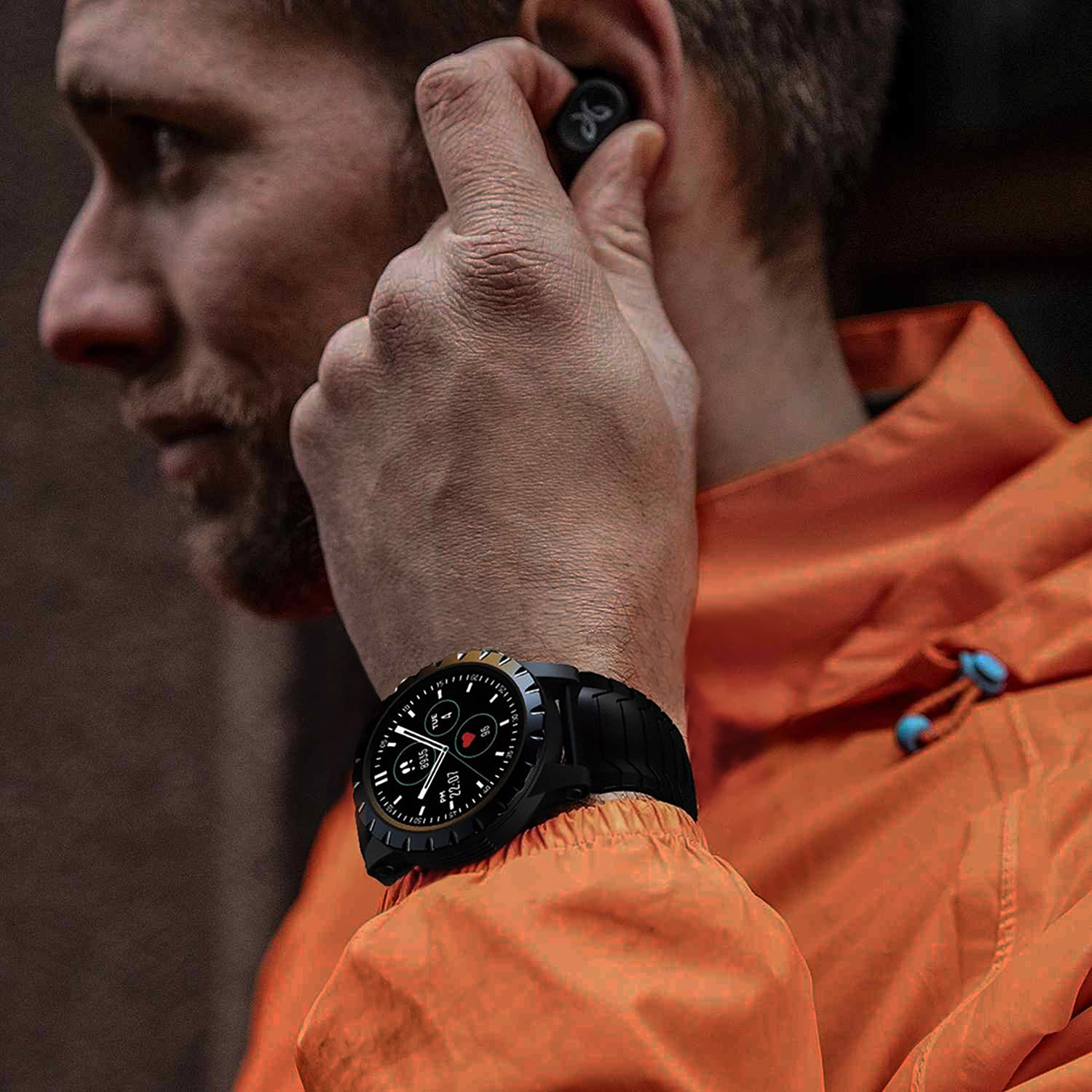 Personalized Watch Faces
Support Custom Watch Face
The dial market provides a variety of creative and colorful watch faces that match your mood. You can also customize your one with your favorite photos from your mobile device.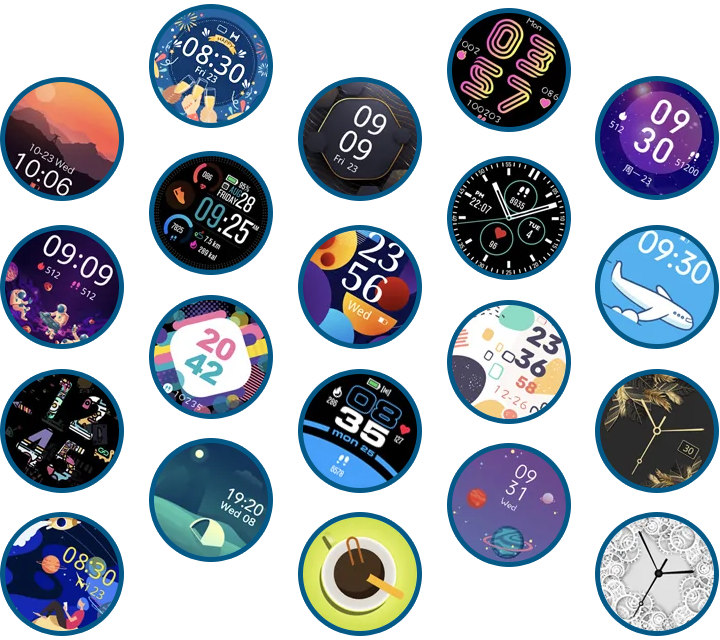 We're Making It Easy to Stay Connected
Your Ultimate Personal Assistant
The Zeblaze Stratos notifies you of any incoming text messages or calls, scheduled alarms, and events to prevent you from missing any important information.It can also easily control music playback on your mobile phone via Bluetooth so that you can enjoy your favorite playlists on the go.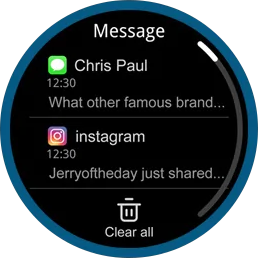 Smart Notifications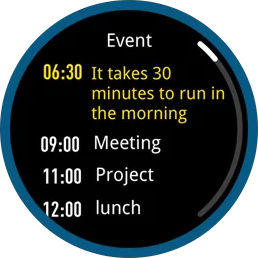 Event Today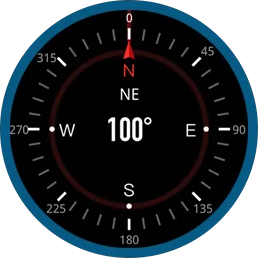 Compass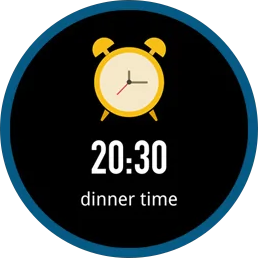 Alarm Clock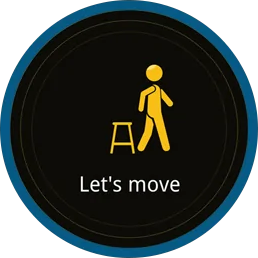 Reminders To Move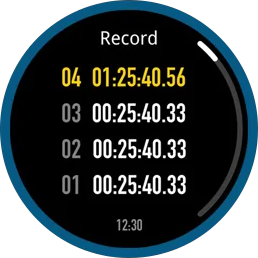 Stopwatch and Countdown
Fitness at Your Fingertips
Wireless upload and share
On mobile, Zeroner is the tool for tracking, analyzing, and sharing health and fitness activities from your Zeblaze device.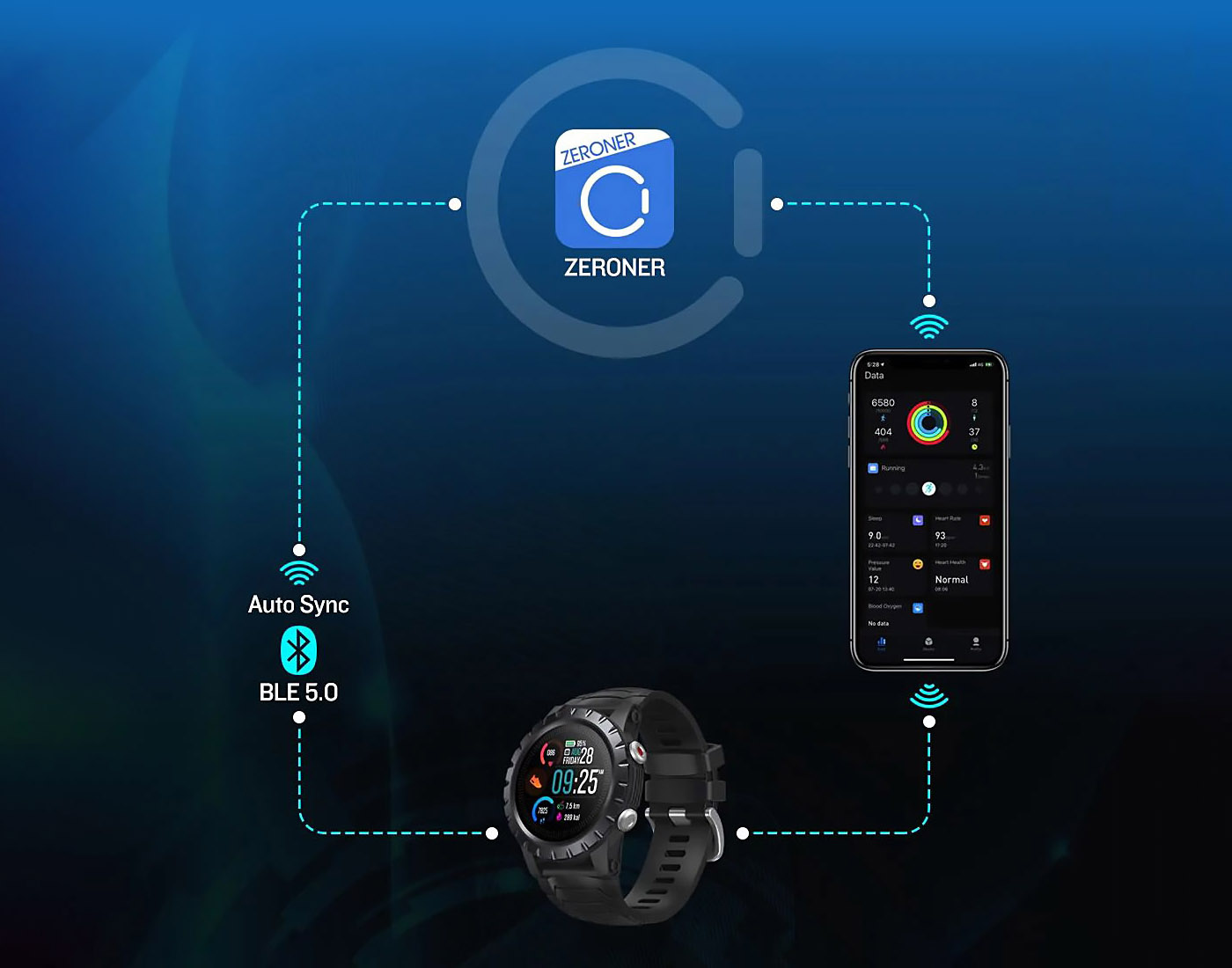 Compatibility:
iOS 9.0 or above and Android 6.0 or above.
Check All Your Efforts
Your day at a glance
Zeroner displays your vital health data and entries for easy viewing. Customize what you want to see in the order you wish to see it. You'll receive a more detailed analysis, as well. View your weekly, monthly, and yearly healthy averages, your favorite activity history, and more.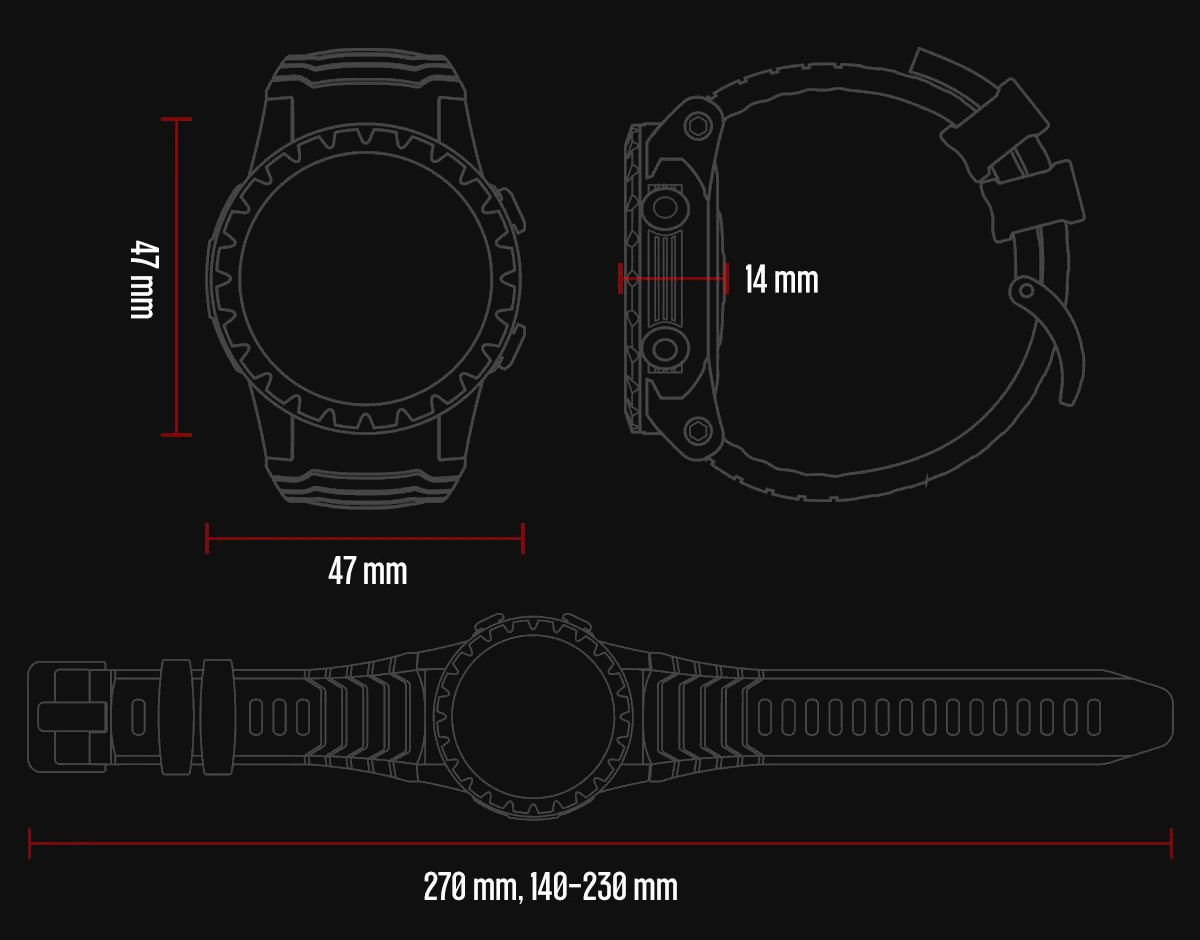 In the box
1. Package
2. Zeblaze Stratos Multisport GPS Smartwatch
3. Charging Cable
4. User Manual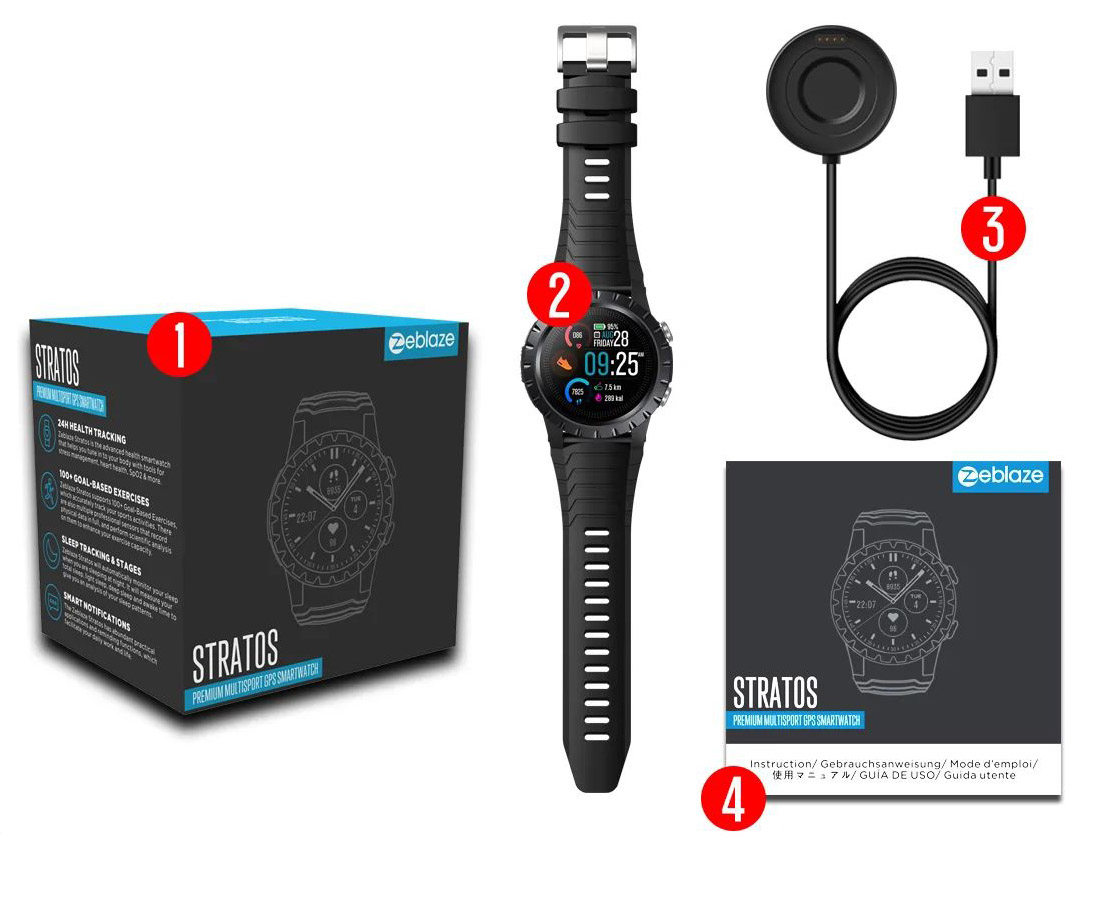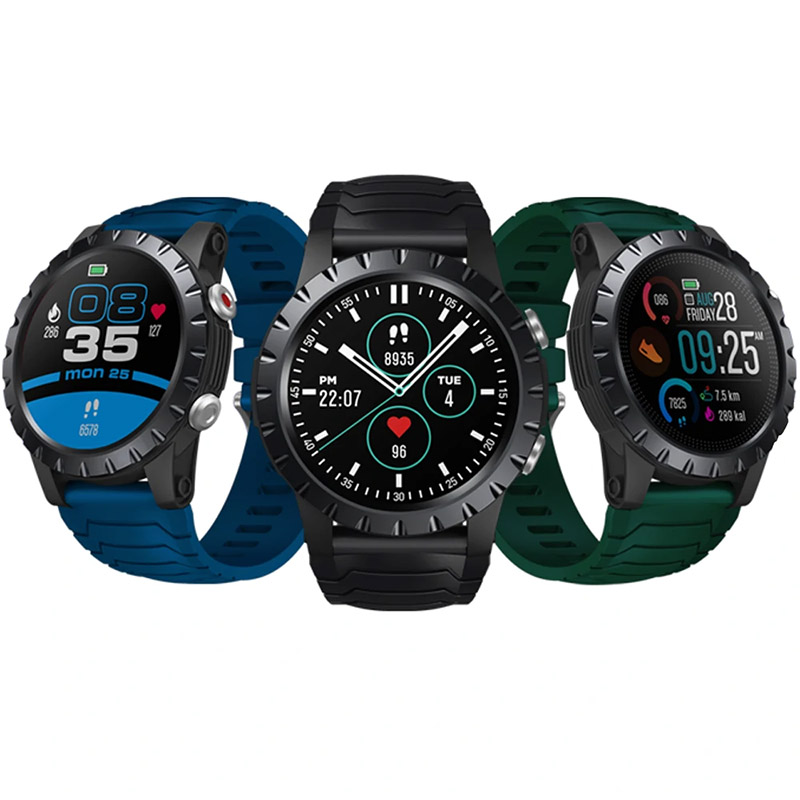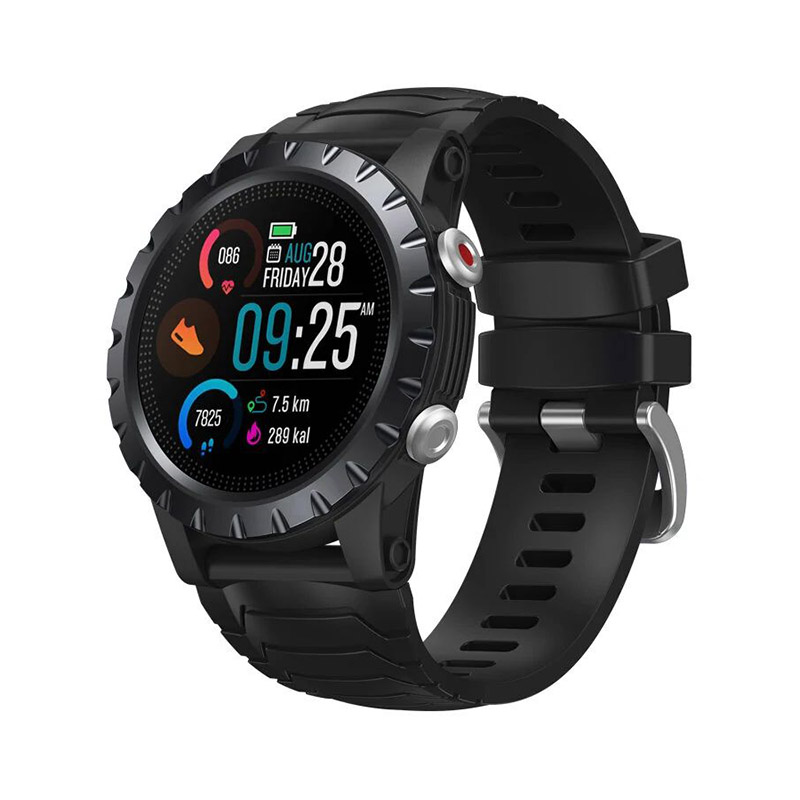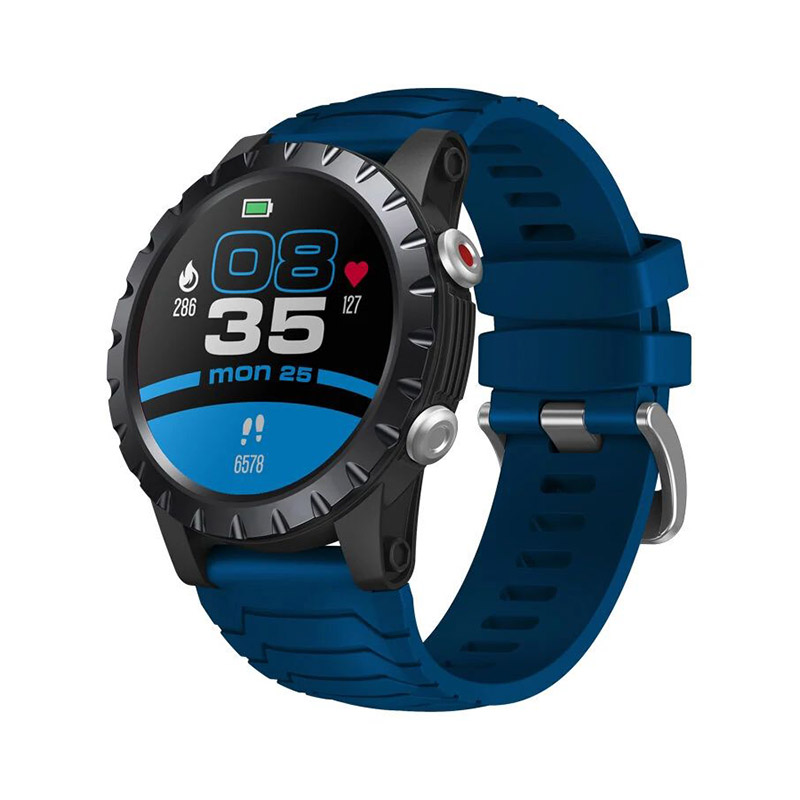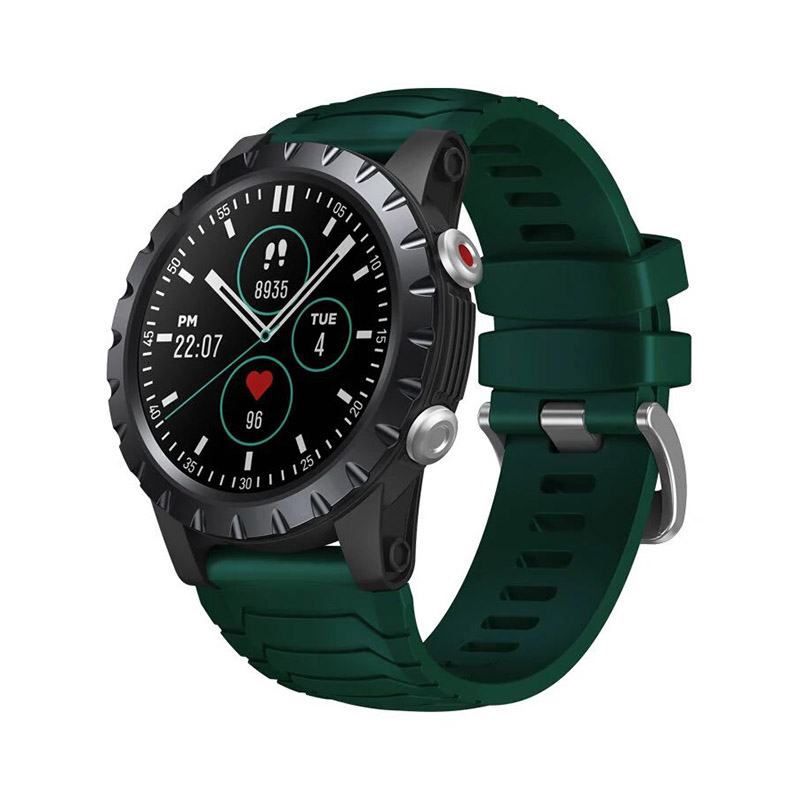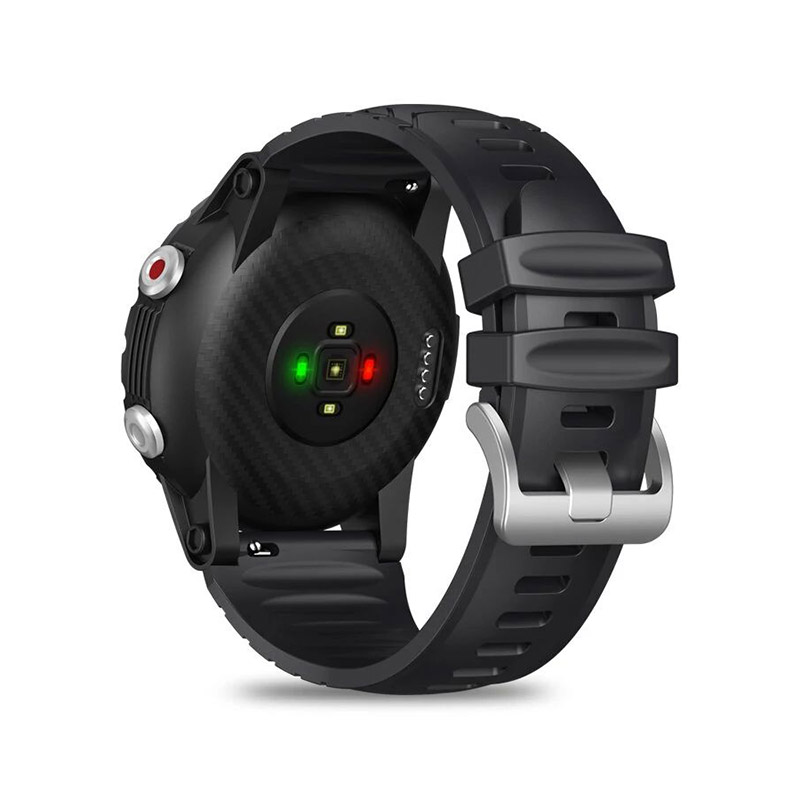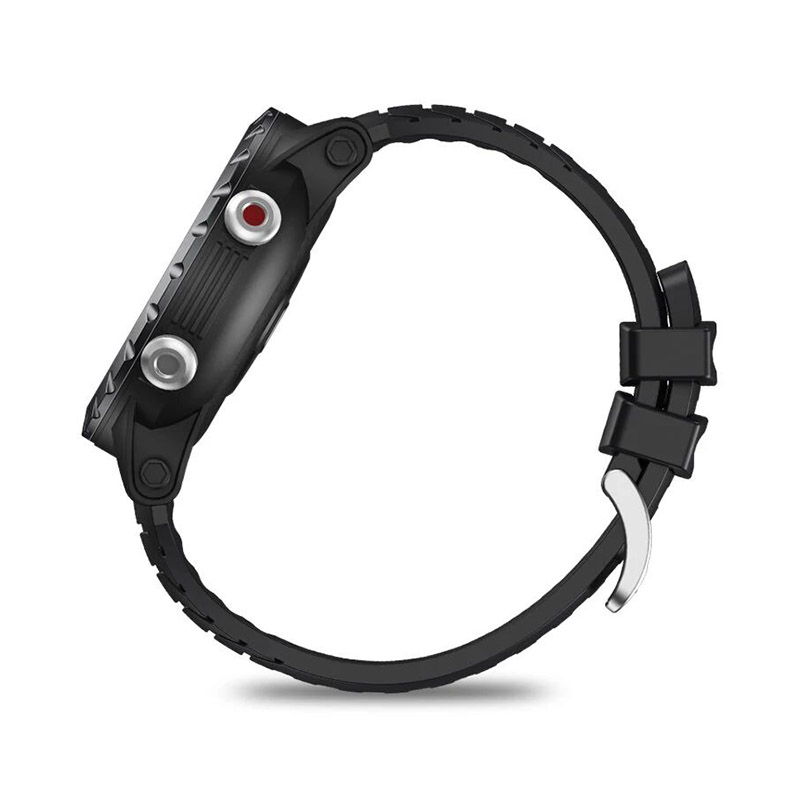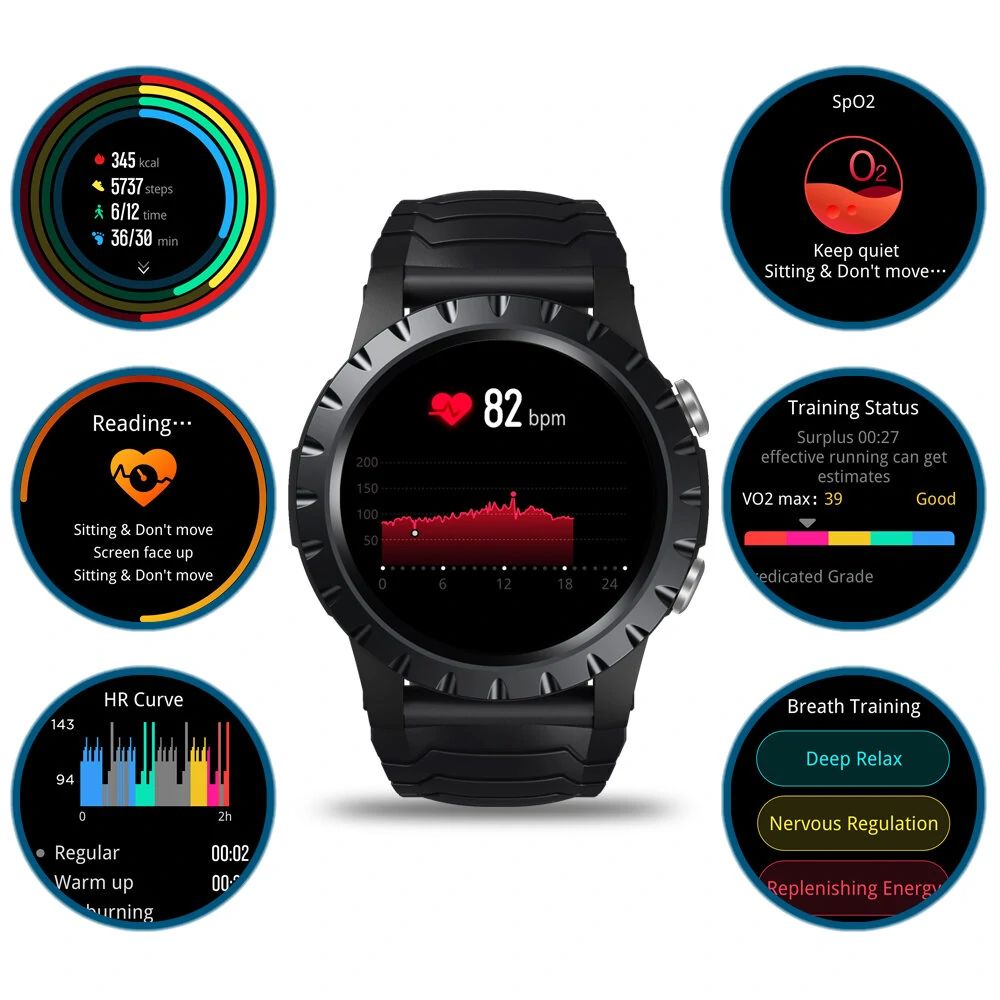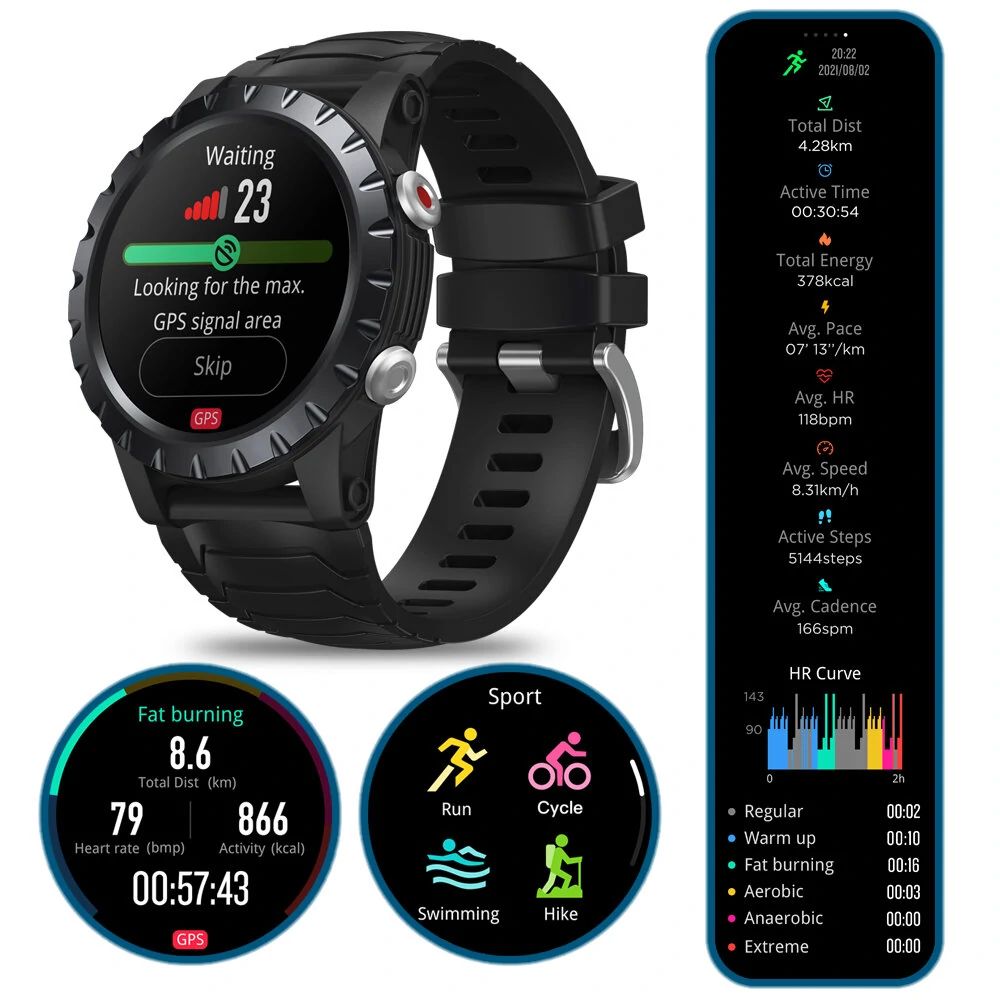 Photo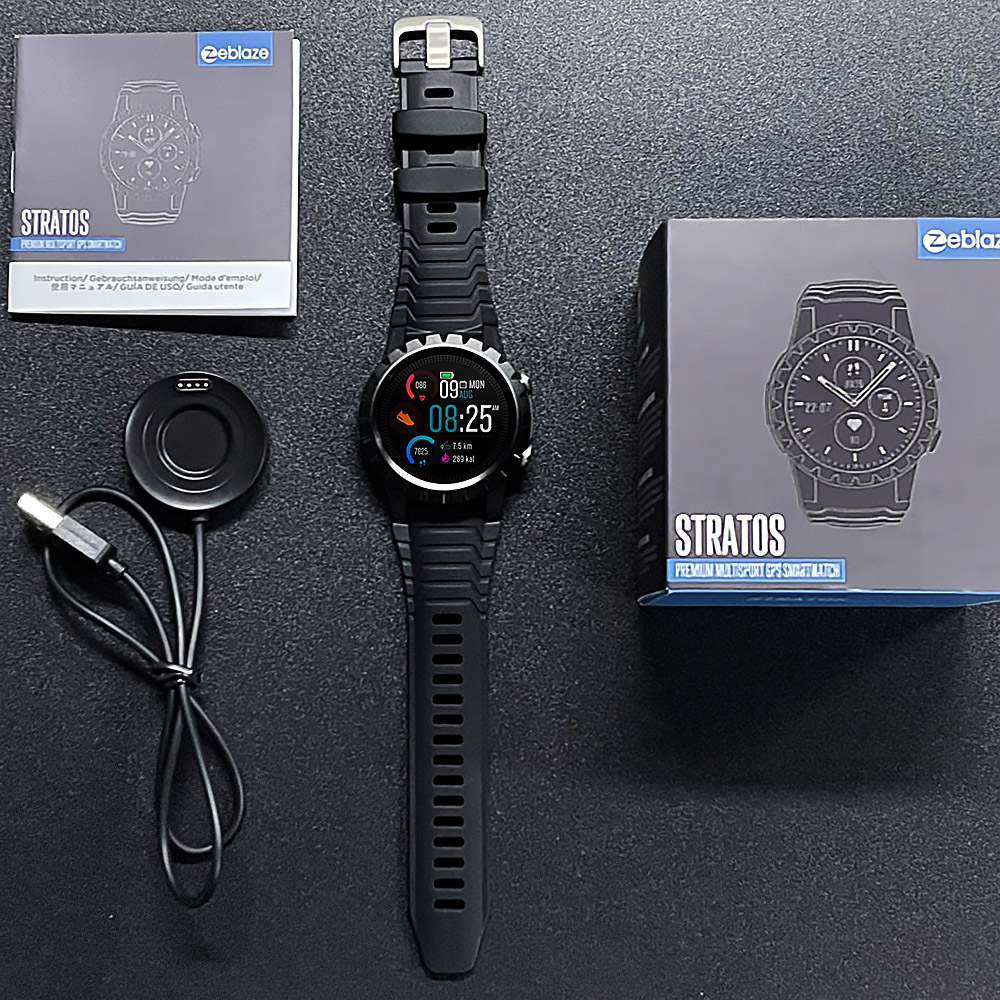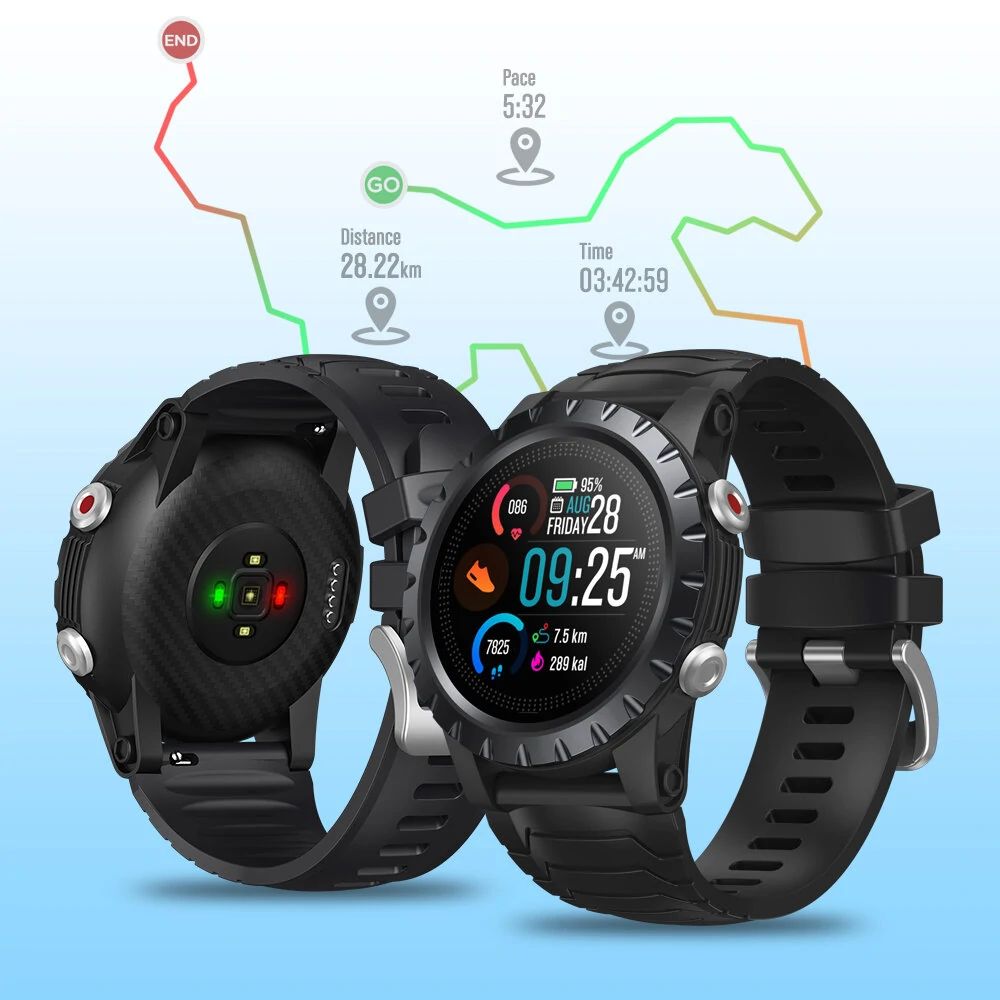 Specification
Product Type
GPS Smartwatch
Model Name
Zeblaze Stratos
Bluetooth Version
BLE 5.0
Smartphone Compatibility
Android 6.0 or iOS 9.0 and above
Technical Parameters
Chip
MTK2523G ARM C0RTEX-M4 208MHZ
Display
HD Color Touch Display Screen
Size 1.32" (32.9 mm) diameter
Resolution
360*360 pixels
GPS
Integrated GPS, GLONASS, GALILEO, BEIDOU. Assisted GPS for fast fix times. Barometric altitude, incline, ascent and descent.
Sensors
Wrist heart rate monitor, pulse Ox blood oxygen saturation monitor, accelerometer, magnetometer, barometric altimeter, compass.
Battery Life
Battery Saver Watch Mode: Up to 25 days;
Smartwatch Mode: Up to 14 days;
Max Battery GPS Mode: Up to 40 hours.
Operating Temperature
From -20° to 50°C. Temperatures below -10°C may affect battery life and performance.
Special Features
Blood Pressure Monitoring
Support
SpO2 Level Measurement
Support
Sleep Quality Monitoring
Support
Smart Notifications
Support
Custom Watch Face
Support
Reminders To Move
Support
Stopwatch and Countdown
Support
Appearance & Details
Bezel Material
Zinc Alloy
Case Material
Carbon fiber reinforced polymer
Button and Buckle
Stainless steel
Wristbands
22mm Durable and comfortable silicone. Compatible with standard 22mm quick release watch bands.
Weight
60g with the wristband, 36g without the wristband
Packages contents
In the box
Package
Zeblaze Stratos Multisport GPS Smartwatch
Charging Cable
User Manual